NEW !

 

THE SENTINEL WALK
The Sentinel is the most spectacular peak in Kosciuszko National Park, New South Wales.
Whether you're new to walking and camping, or an experienced hiker, this is a walk for everyone.  If you're a photographer you'll love the amazing sunrises and sunsets, lookouts, waterfalls, scenic lookouts close to camp and the magic of Blue Lake. Yoga is optional and offered on selected dates only.
Program 
Day 1: Well leave our cars in the overnight carpark at Charlotte Pass. After crossing the Snowy River its a two hours to walk to Blue Lake for lunch and a cold water swim if you're brave enough!  After lunch it's up to Mike's Mt Sentinel campsite for a relaxing afternoon. Experience a spectacular dunset as the sun dips behind the Sentinel and fading western ridges.       
Day 2: Start the day a choice between a relaxing morning around camp, or walk the steep, knife-edge ridge of Mt Sentinel for more experienced, fitter hikers. After lunch its an easier walk for great views of the Victorian Alps and Mt Jugungal. After dinner watch the sunset, then stargazing before settling into your tent.
Day 3: wake up early for a pre-dawn walk from camp to watch sunrise over Blue Lake.  After breakfast you'll pack up your tent and walk to Carruthers Peak for lunch with amazing views to Mt Kosciuszko, Mt Townsend and the Snowy River.  From there well walk back to the cars at Charlotte Pass. 

2021 dates: April 17-18, October 29-31. Other dates on request. 
2022 dates: February 11-13, April 29 - May 1. Other dates on request. 
Cost:
The Sentinel Walk three days $750 pp  for 3-6 clients, $990 pp for 2 clients or $1650 for one person.
If you book a group of 6 walkers I will give each customer a  signed copy of my 84 page hardcover photographic book " The Australian Alps" valued at $30 each.
When to walk? The best time to walk tIn Kosciuszko National Park is from early November through to May as the weather is generally fine and the days are longer. Snow drifts remain until late in the year and spectacular alpine flowers bloom in the warmer months from December through to late January. Mid January to mid February are too hot to do extended walks. By mid February the mountains are starting to cool down with refreshing autumn mountain scenery & fading ridges at sunset.  During winter and early spring walking is more difficult due to snow and weather conditions. Snowshoes are required and the walk is too challenging for most of the clients during these seasons.
Inclusions:
Full Liability Insurance
Quality professional digital photographs from our trip
NPWS guide fees & charges (this doesn't include the National Park's visitor/car entry fee)
Communications, first aid kit & navigation equipment
Fully qualified and experienced guide mountain guide for 4 days
 
Not included:
Travel to and from Thredbo (Mike can provide car transport from the Canberra bus terminal (Jolimont Centre) or Canberra Airport for a fee. Transport from Canberra to Thredbo is difficult in summer unless you have a car.
Accommodation and meals
Camping Equipment (hire gear is available as follows for four days): Thermarest NeoAir Xtherm sleep mat $40 pp, Macpac Minaret four season one person tent $70 pp or  Macpac Olympus two person four season tent $100 per tent, down winter sleeping bag and thermal inner sheet $55 pp, overnight backpack & rain cover, $50 pp, stove, fuel & food $160 pp or $45 pp stove &, fuel. 
Personal clothing and equipment (can be hired on request)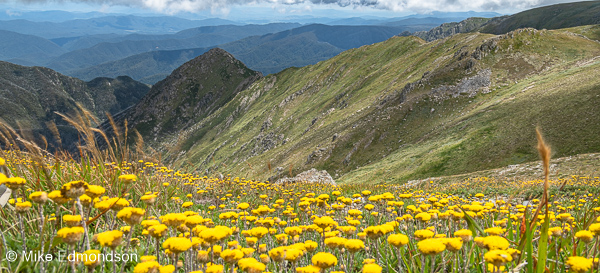 Bookings: Please email me your name, phone number and preferred dates. A $100 per person deposit  is required to secure your booking, which is refundable if we get shut down with the virus.
Once this is done you will receive an information sheet including the a more detailed itinerary as well as clothing, equipment and training requirements to help you prepare for your adventure. You will also be required to sign a liability waiver. 
NB. Customised walks can be tailored to suit your requirements. For example a six day scenic walk visiting peaks, glacial lakes, seeing Australian wildlife and historic stockman's huts. Camping or lodge based options are also available.