Kosciuszko spring time tours

Enjoy the spring snow with lodge or camping tours in Kosciuszko National Park.
September and October warm spring weather brings more sunshine and soft forgiving snow  .
From laying tracks on easy turning spring snow, to visiting Mt.  Kosciuszko to visiting historic huts and scenic waterfalls, lakes or high alpine lookouts.
Checkout this new video showcasing my adventure trips: https://www.youtube.com/watch?v=Z7s8w6Q_rbA&t=2s
2020 Dates: August 27-30 (Skiers 2 places left), September 1 - 3 or 4, September 6 -12 (Booked Out), September 17-20, September 24 or 25 - 27, October 3 - 5 Long Weekend. Plus other dates on request.
Cost:  
Three Days $650pp for 3-5 clients, $860pp for 2 clients, $1500pp for 1 client
Four days $860pp for 3-5 clients, $1140pp for 2 clients, $2000pp for 1 client
Five days $1080pp for 3-5 clients, $1430pp for 2 clients, $2500pp for 1 client

Snowshoeing

Inclusions: 
·Full Liability Insurance
·NPWS guide fees & charges (this doesn't include the National Park's Visitor/Car entry fee)
·Communications, first aid kit, water purification tablets & navigation equipment
·Snowshoes, adjustable poles & snow shovels
·Fully qualified and experienced guide mountain guide for 3 days
·Instruction in snow craft, snow survival, navigation & photography
·Professional digital photographs from our trip
·Kosciuszko Express Chairlift return ride
·Mt. Kosciuszko Certificate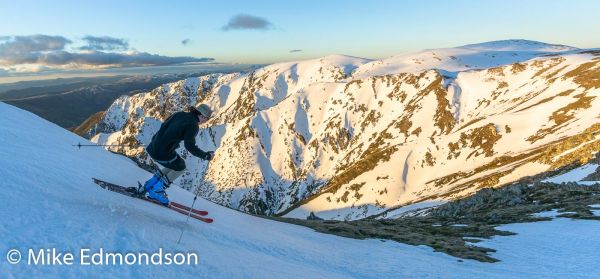 Backcountry Skiing                                             
Not included: 
·Travel to and from Thredbo
·Accommodation and meals
·Camping Equipment (hire gear is available as follows for three days) Thermarest NeoAir Xtherm sleep mat $35 pp, Macpac Minaret four season one person tent $60 per tent or Macpac Olympus four season two person tent $90 per tent, down winter sleeping bag and inner sheet $55 pp, overnight backpack & rain cover $40 pp, stove & food $120 pp or $40 pp stove & fuel.
·Personal clothing and equipment (can also be hired as follows for three days)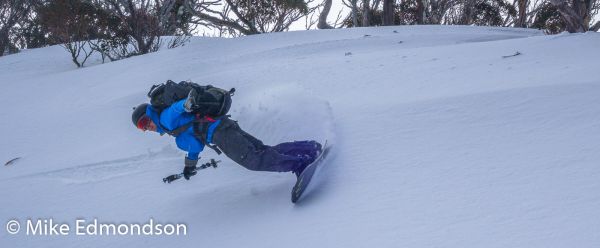 Backountry Snowboarding      
Bookings:  
Please email me your name, phone number and preferred dates. A 50% deposit is required to secure your booking. Once this is done you will receive an information sheet including a detailed itinerary as well as clothing, equipment and training requirements to help you prepare for your adventure. You will also be required to sign a liability waiver.

                                                              Snowcamping  
NB. Customised snow shoe, skiing and walking tours can be tailored to suit your requirements. For example a six day scenic walk visiting peaks, glacial lakes, seeing Australian wildlife and historic stockmans' huts. Another great challenge is to cross the mountains from Thredbo to Perisher via Mt Kosciuszko. Camping or lodge based options are available. Plus taking clients out on alpine touring skis and cross country skis   as well as snowshoes. 

                                                            Having fun