HiSTORIC Huts Tour
Visit interesting scenic mountain huts in the fabulous Kosciuszko National Park
Over four to five days we explore some magic locations visiting many historic stockman's and miners huts in the Kosciuszko National Park, New South Wales. Historic huts we can visit include Cascade Hut, Teddies Hut, Tin Mines Hut, Carter's Hut, Horse Camp Hut, Whites River Hut and Disappointment Spur Hut. With the added extra option to also visit Cootapatamba Hut and summit Mt Kosciuszko at  2228m and/or visit Lake Cootapatamba. Mike, his family and the Illawarra Alpine Club have been passionately caretaking four of these huts for 50 years.
Mt Jagungal 5 Day Huts walk Climb Mt Jagungal the highest mountain in the northern end of Kosciuszko and visit & camp next to up to 7 huts on this scenic medium to hard grade walk for fit hikers. Also ideal for groups of 4 to 6 Dates on request for groups of 4 to 6 + March 9-13.
The Pliot 5 Day Huts walk Climb The Pilot the highest mountain in the southern end of Kosciuszko and visit & camp next to up to 4 huts on this scenic medium to hard grade walk for fit hikers. Also ideal for groups of 4 to 6 Dates on request for groups of 4 to 6 + November 24-28.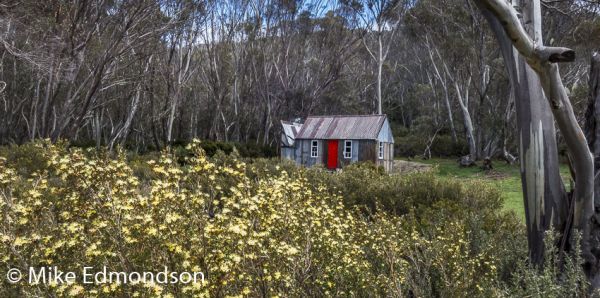 Program
Clients have the choice to base their walk from lodge accommodation in Jindabyne or camping in the mountains close to the huts. We often eat lunch in the huts over a cup of tea or hot chocolate around the fire, with many photo and exploring opportunities. 
Jindabyne has a wonderful charm and is a good place to relax after a hard day's walk. There is a range of quality accommodation to choose from including lodges, hotels and the comfy backpackers.
The camping option is popular for those wishing to camp close to the huts in scenic locations often nestled amongst the snow gums. We can customise a huts walk to cater for your group. For example  set up a base camp at one hut then do day walks from their with lighter packs. Or do a 4 day huts circuit visiting 3-4 huts along the way. We also have a medium grade 5 day huts walk visiting 5 huts, climbing The Pilot  (The highest peak in the Biadbo wilderness) and traversing down to the the snowy river. We could also start by summiting Mt. Kosciuszko then descending to 200 metres above sea level over 5-6 days, as the biggest decent walk in Australia 
Enjoy the wonderful alpine scenery, without feeling you need to rush off to the next hut. The historic huts tour is a great way to get fit, explore the magnificent Kosciuszko National Park and learn about the history of the area.
Some clients also organise their own private, fun, small group of 4-6 friends.
For those who may find the huts tour too challenging we can customise an easier walk to scenic locations, peaks and a few historical stockmen's huts. 

Dates: Choose your huts walk dates starting on Friday from  November to May
Cost   three days: $750pp for 3-6 clients, $990pp for 2 clients, $1650pp for 1 client.
           four days: $950pp for 3-6 clients, $1250pp for 2 clients, $2200pp for 1 client
           five days: $1180pp for 3-6 clients, $1570pp for 2 clients, $2750pp for 1 client
           six days: $1420pp for 3-6 clients, $1880pp for 2 clients, $3300pp for 1 client
If you book a complete private group of 6 walkers for a Camping Walk or 6 walkers for a Lodge based Walk I will give each client a signed copy of my 84 page hardcover photography book " The Australian Alps" valued at $30 each
 When to walk? The best time to walk the huts tour is from late September through to May as the weather is generally fine and the days are longer. Snow drifts remain until late in the year and spectacular alpine flowers bloom in the warmer months from December through to late January. During winter months, from July to September, the walk is slightly more difficult so we use snowshoes. Completing the challenge on cross country skis is an option for those with intermediate skiing skills.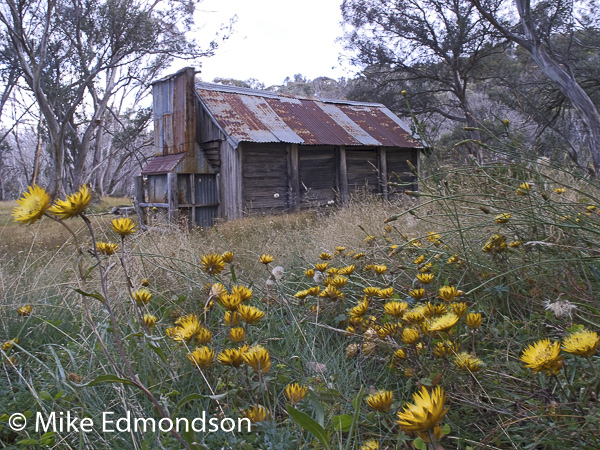 Inclusions:
Full liability insurance
NPWS guide fees & charges (this doesn't include the National Park's visitor/car entry fee)
Communications, first aid kit & navigation equipment
Fully qualified and experienced guide mountain guide for four days 
Not included:
Travel to and from Thredbo (Mike can provide car transport from the Canberra bus terminal (Jolimont Centre) or Canberra Airport for a fee. Transport from Canberra to Thredbo is difficult in summer unless you have a car.
Accommodation and meals
Kosciuszko Express Chairlift for 1 day on lodge based walk
Camping equipment (hire gear is available as follows for four days): Thermarest NeoAir Xtherm sleep mat $40 pp, Macpac Minaret four season tent $60 per tent or two person Macpac Olympus tent $90 per tent, down winter sleeping bag and inner sheet $50 pp, overnight backpack & rain cover, $40 pp, stove, fuel & food $120 pp or $40 pp stove & fuel. 
Personal clothing and equipment (Can also be hired on request)
Checkout this video Mountain Mikes Youtube video
Bookings: Please email me your name, phone number and preferred dates. A $100 per person deposit is required to secure your booking.
Once this is done you will receive an information sheet including the Ten Peaks itinerary as well as clothing, equipment and training requirements to help you prepare for your adventure. You will also be required to sign a liability waiver. 
NB. Customised Walks can be tailored to suit your requirements. For example a six day scenic walk visiting peaks, glacial lakes, seeing Australian wildlife and historic stockmans' huts. Camping or lodge based options are